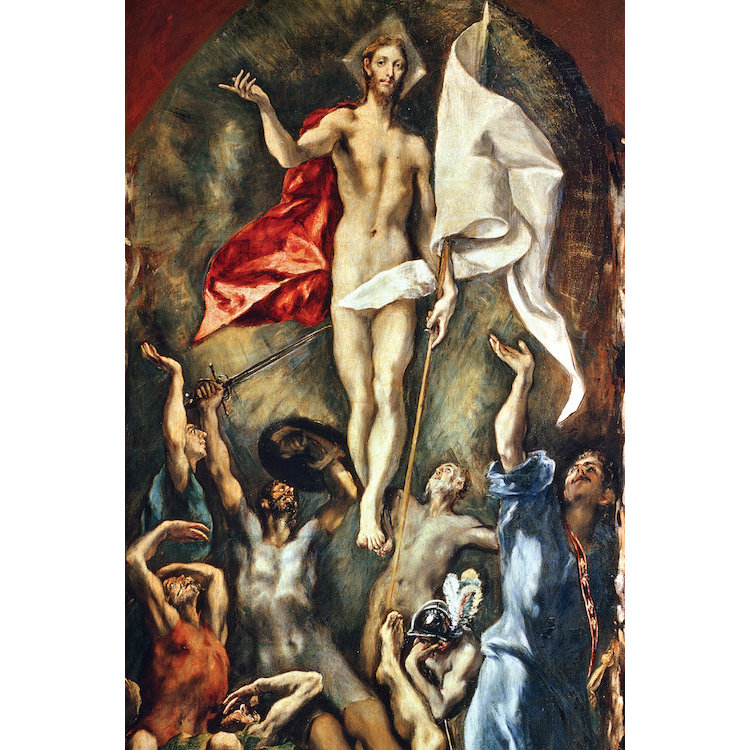 The Resurrection by El Greco
HOMILY FOR THE SOLEMNITY EASTER
16 APRIL 17
BISHOP RENE HENRY GRACIDA
O God,
who on this day,
through your Only Begotten Son,
have conquered death
and unlocked for us the path to eternity,
grant, we pray, that we who keep
the solemnity of the Lord's Resurrection
may, through the renewal brought by your Spirit,
rise up in the light of life.
Through our Lord Jesus Christ, your Son,
who lives and reigns with you in the unity 
of the Holy Spirit,
one God, forever and ever.
Amen!
(The Collect )
Pope Benedict XVI has provided me with the perfect introduction for this homily.
Faith in the Resurrection of Jesus says that  there is a future for every human being, the cry for unending life which is a part of the person is indeed answered.

Through Jesus we do know 'the room where the exiled love lays down its victory'

He himself is this place, and he calls us to be with him and in dependence on him.  He calls us to keep this place open within the world so that he, the exiled love, may reappear over and over in the world…

God exists: that is the real message of Easter. Anyone who even begins to grasp what this means also knows what it means to be redeemed.
It is customary to keep the focus of Easter on this  truth:
Christ's Resurrection =   Our Redemption.
But to keep the focus beyond Easter Sunday solely on redemption is to loose sight of the fundamental reason for Jesus's act of redemption.
The fundamental cause was not sin.  Yes, it was sin that was erased, not only the sin of our first parents but ALL SIN that denies us the possibility of attaining eternal life with God.
But more than the erasure of sin was accomplished by Jesus in his passion, death and resurrection.
He, the 'exiled love', by his passion, death and resurrection showed us:
WHO to love, WHAT to love and HOW to love.
We know that what we are to love WHAT is good and what we are to avoid WHAT is evil. We can know what is good if we are guided by natural law given by God to every creature. It is more easily known by humans because our five senses are guided by our intellect and will.
We know what is evil in general but we do not know it  by natural law in specific instances unaided by our conscience.  As Saint John tells us in his gospel and epistle, Jesus Christ is the light that enlightens every man who comes into this world.  It is clear than many, if not most people have blinded themselves to the light that Jesus the creator has given to everyone who comes into this world.
It is that light that can show us what is good and what is evil.
Since man stands at the pinnacle of God's creation because of his being in the image and likeness to God in his ability to know and to will with regard to what he knows, unlike the rest of creation which is governed by physical laws of nature and by instincts.
And finally, that light shows us who to love.   God created man so that the love which exists in the Trinity of Persons in God, which is the creative force bringing into existence a creature made in the image and likeness of God can love.  Man can radiate back to God that love which was the cause of man's very existence.  Man does that by loving God and by loving other persons who are themselves sharing in God's love.
So what is the problem?
The problem is that before the coming of Jesus Christ man seemed to fail more than succeed, man loved everything but God. Jesus Christ showed man who what and how to love!
In the Fifteenth Chapter of the Gospel according to Saint John, Jesus said to us:
"This is my commandment, that you love one another as I have loved you.  Greater love has no man than this, that a man lay down his life for his friends."
There is a church tradition, which says, that when John was evidently an old man in Ephesus (93 years old?), he had to be carried to the church in the arms of his disciples.  At these meetings, he was accustomed to say nothing more than, "Little children, love one another!"  After a time, the disciples wearied at always hearing the same words, and so they asked John "Master, why do you always say this?" Saint John replied: "It is the Lord's command; and if this alone be done, it is enough!"
So what is the problem?  Why don't we love one another as Saint John commands us,     as Jesus commands us, as Jesus set the example himself for us to follow.
The problem begins with the way we love ourselves.  We cannot love others if we do not first love ourself in the right way.  One extreme example of the wrong way is the problem those have a narcissistic personality, characterized by excessive admiration for oneself.   Another bad example in the other extreme is the person who thinks himself to be worthless.
Another problem is the person who cannot forgive another person for real or imagined wrongs.  Children will not speak with siblings; husband and wife will not speak with one another.  One or the other will retaliate, sometimes for years by withholding tenderness and affection to their spouse.
It is hard to imagine how people can live for years estranged from those they have loved in the past and are bound to imitate Jesus Christ by the sacraments the have received.  Imitate Jesus Christ who died not only for our sins but to show us by example what love is really all about by forgiving those who crucified him.
It is hard to love a burning bush, a pillar of fire, a gentle breeze.  Perhaps that is why the Israelites strayed so often from the worship of the God of Abraham, Isaac and Jacob, because they yearned to see God but it was not until Jesus Christ came to them that they could see God because of, and in spite of, Jesus' humanity
 Jesus Christ has given us something corresponding to our own humanity in his gift to us of his body and blood in the Eucharist. It is easier to love him since he does present himself to our human senses as a pure spirit.
Easter does not consist only of the Passion, Death and Resurrection of Jesus Christ.  Easter includes also the Last Supper and the institution of the Eucharist.                          Out of love for us Jesus Christ offers up himself on the Cross and he rises up from the dead.  But before he does this he give us Sacrament of his Body and Blood so that after he ascends to the Father, he will still be both physically and spiritually present to us and thus make easier for humans to love and be united with him in love, body, soul and divinity
 Almighty God,
Eternal Father, 
through the passion, death and resurrection of your Son,
Our Lord Jesus Christ, 
you restored the possibility of our gaining eternal life in you which was lost in the garden of Eden.
But in addition to that your Son taught us through that same passion, death and resurrection the divine nature of love and of  the necessity and possibility of our sharing in that love by doing as he commanded us.
Grant that we, who have participated in these holy mysteries this past week may receive and cooperate with the graces you give us to live and love in Christ.
Through the same Jesus Christ, your Son, who lives and reigns with you and the Holy Spirit, one God, forever and ever !
Amen !
Magnopere !