Newspaper That Already Endorsed Beto O'Rourke Gets Fed Up with Dodging, Demands Answers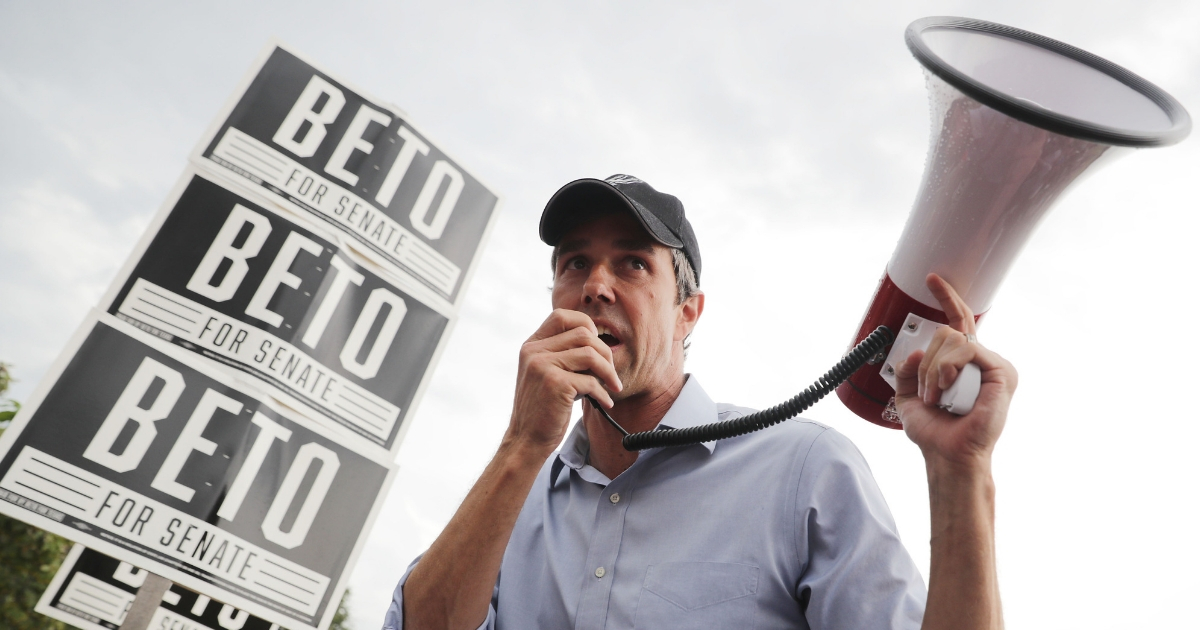 Chip Somodevilla / Getty ImagesU.S. Senate candidate Rep. Beto O'Rourke (Chip Somodevilla / Getty Images)By Molly Prince
November 3, 2018 at 7:51am
Share on Facebook Tweet Email Print
The editorial board of The Dallas Morning News called on Democratic Rep. Robert "Beto" O'Rourke on Friday to provide clarification regarding where he stands on the migrant caravan that is heading toward the U.S border.
O'Rourke, who is trying to unseat Republican Sen. Ted Cruz, has been dodging the issue, despite immigration and border security overwhelmingly being the top issues for voters in Texas. Cruz urged reporters on Friday to probe O'Rourke into what he intends to do if elected to the Senate later this week.
"Two basic (questions) every reporter should ask Beto today," Cruz tweeted. "(1) should the "caravan" be allowed to cross illegally into Texas? (Beto refuses to answer.) And (2) did your campaign dollars illegally fund their doing so?"
Advertisement – story continues below
TRENDING: Facebook Removes Rabbi's Post About Being Harassed by Farrakhan Supporters, Calls It a 'Mistake'
Cruz's second question was in reference to undercover footage that was released on Thursday by Project Veritas.
In the video, O'Rourke's campaign staff alluded to campaign resources that were being used to assist the migrants on their way to the Texas border, a move that would violate federal law. O'Rourke later claimed that the spending will be appropriately reported to the Federal Election Commission as a charitable expense.
O'Rourke finally addressed the issues during a rally in Lewisville, insisting that it is "part of an effort to try to stoke fear and anxiety about immigrants." However, he notably did not provide clarification on how he intends to handle the migrant caravan during its impending arrival."We're looking at this, but anyone who is trying to politicize this is trying to win an election base on fear," O'Rourke told the crowd. "I want to make sure that we're focused on the issues that matters most to Texas."


 
Completing this poll entitles you to The Western Journal news updates free of charge. You may opt out at anytime. You also agree to our Privacy Policy and Terms of Use.When Cruz was confronted with O'Rourke's response, Cruz pushed back noting that "that's not an actual response."
Advertisement – story continues below"The (question) is 'should the 'caravan' be allowed to cross illegally into Texas?'" Cruz replied. "That's a simple yes or no question. Screaming 'paranoia' and refusing to answer is an obvious dodge, and reporters all know that."
RELATED: Beto O'Rourke Has Already Broken a Campaign Promise Before Election DayThe Dallas Morning News, who had endorsed O'Rourke in October, agreed with Cruz, penning an editorial titled simply "Beto O'Rourke needs to offer specifics on the migrant caravan."
Advertisement – story continues below
The editorial board did not go so far as to pull their endorsement, noting that he received it primarily due to the "tone and manner in which he's conducted his campaign" over policy stances, but asserted that O'Rourke has an obligation to provide detail on what his position is and how it should be handled."The debate about immigration is so critical to the nation and particularly Texas," the editorial board wrote. "It is imperative that O'Rourke do more than just offer counter-statements to Trump and Cruz about unity and bringing people together."
Advertisement – story continues belowO'Rourke's campaign did not reply to The Daily Caller News Foundation's request to comment.
Content created by The Daily Caller News Foundation is available without charge to any eligible news publisher that can provide a large audience. For licensing opportunities of our original content, please contact licensing@dailycallernewsfoundation.org.
A version of this article appeared on The Daily Caller News Foundation website.