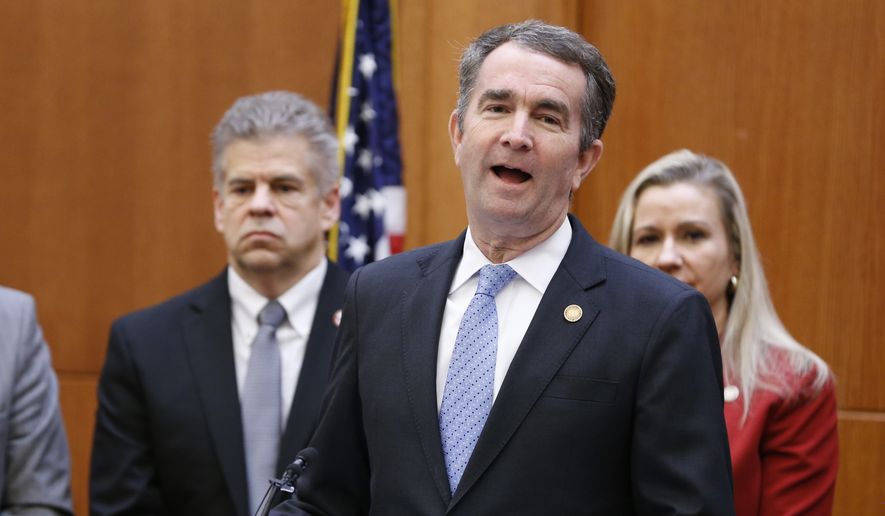 PrintBy Jessica Chasmar– The Washington Times – Wednesday, January 30, 2019
Virginia Gov. Ralph Northam on Wednesday defended a proposed bill that would allow abortion up until the moment of childbirth.
Virginia Democratic Del. Kathy Tran, chief sponsor of the Repeal Act, sparked headlines this week after she said her bill, which seeks to repeal restrictions on third-trimester abortions, would allow a woman to terminate her pregnancy while she's in labor.
"Where it's obvious that a woman is about to give birth," Republican state Rep. Todd Gilbert asked Ms. Tran during a hearing Monday, "would that still be a point at which she could request an abortion if she was so-certified? She's dilating."
"My bill would allow that, yes," Ms. Tran answered.
Virginia House Democrats propose legislation to allow abortions up until the moment of birth

Todd Gilbert (R): Where it's obvious a woman is about to give birth…would that be a point at which she could still request an abortion?

Kathy Tran (D): My bill would allow that, yes pic.twitter.com/UHgzU3EGDA— Ryan Saavedra (@RealSaavedra) January 29, 2019

A subcommittee voted to table the bill in a 5-3 vote Monday.DWR
Mr. Northam, speaking Wednesday morning on WTOP's "Ask The Governor," defended Ms. Tran's bill and claimed that her comments were "really blown out of proportion."
"This is why decisions such as this should be made by providers, physicians and the mothers and fathers that are involved," the Democratic governor explained, National Review reported. "When we talk about third-trimester abortions, these are done with the consent of obviously the mother, with the consent of the physician — more than one physician, by the way — and it's done in cases where there may be severe deformities. There may be a fetus that's non-viable.
"If a mother is in labor, I can tell you exactly what would happen," said Mr. Northam, a former pediatric neurologist. "The infant would be delivered. The infant would be kept comfortable. The infant would be resuscitated if that's what the mother and the family desired, and then a discussion would ensue between the physicians and the mother.
"We want the government not to be involved in these types of decisions, we want the decision to be made by the mothers and their providers," he added.
Ms. Tran's bill eliminates the requirement that two other physicians certify that a third-trimester abortion is necessary to prevent the woman's death or impairment of her mental or physical health, as well as the need to find that any such impairment to the woman's health would be "substantial and irremediable."
Mr. Northam said he did disagree with the provision in Ms. Tran's bill that would eliminate the requirement for two physicians to certify a third-trimester abortion.
"Well, I think it's always good to get a second opinion and for at least two providers to be involved in that decision, because these decisions shouldn't be taken lightly," he said.
VA gov on abortion this morning:

"If a mother is in labor…the infant would be delivered. The infant would be kept comfortable. The infant would be resuscitated if that's what the mother and the family desired, and then a discussion would ensue between the physicians & mother" pic.twitter.com/cc15pVLjIQ— Caleb Hull (@CalebJHull) January 30, 2019

Republican Sens. Marco Rubio and Ben Sasse blasted Mr. Northam's comments as endorsing post-birth abortion or infanticide.
The governor's office released a statement Wednesday afternoon slamming critics for their "bad faith" efforts in trying to "extrapolate these comments."
"Republicans in Virginia and across the country are trying to play politics with women's health, and that is exactly why these decisions belong between a woman and her physician, not legislators, most of whom are men," the statement read. "No woman seeks a third-trimester abortion except in the case of tragic or difficult circumstances, such as a nonviable pregnancy or in the event of severe fetal abnormalities, and the governor's comments were limited to the actions physicians would take in the event that a woman in those circumstances went into labor."

Copyright © 2019 The Washington Times, LLC.  
++++++++++++++++++++++++++++++++++++++++++++++++++++
Stephen KokxFollow Stephen
---
NEWSABORTION, CATHOLIC CHURCHThu Jan 31, 2019 – 12:40 pm EST
US bishop rebukes Virginia Governor for 'staggering' infanticide remarks
Abortion, Catholic, Infanticide, Late-Term Abortion, Michael Burbidge, Ralph Northam, Virginia
PETITION: Tell Virginia governor to retract outrageous statement allowing babies to die! Sign the petition here.
ARLINGTON, Virginia, January 31, 2019 (LifeSiteNews) – The staunchly pro-lifeCatholic Bishop of Arlington, Virginia, has strongly rebuked pro-infanticidecomments made earlier this week by Virginia Democratic Governor Ralph Northam.
Bishop Michael Burbidge today called Northam's comments a "staggering admission" that reveals just "how far abortion advocates are willing to go in taking the life of a precious child."
Northam caused a national uproar Wednesday when he told a radio station that if a woman seeking an abortion goes into labor and the baby is delivered, the baby would be kept comfortable, resuscitated "if that's what the mother and family desire," and then a discussion between the mother and physician would ensue.
The comments, made in response to a question about a Virginia abortion bill that has since failed, elicited strong reactions across the country, especially from Republicans and conservatives.
U.S. Senator Marco Rubio (R-FL) tweeted, "I never thought I would see the day America had government officials who openly support legal infanticide."
Republican National Committee Chairwoman Ronna McDaniel described Northam's comments as "horrific" and a defense of "born-alive abortions."
Pro-life commentator Ben Shapiro decried the remarks as "pure evil."
In a statement released today, Bishop Burbidge said Northam's comments betray "a new level of deep-rooted animus against the inherent goodness of every child." He also noted how not just in Virginia but also in New York "extreme abortion legislation" has been introduced recently. "This is a critical moment in the life of our Church and our society," Burbidge's statement read.
Northam, however, doubled down on his remarks despite near-universal outrage. In a tweet, Northam, a former pediatric neurologist, said it is "shameful and disgusting" to say he hasn't "devoted" his "life to caring for children."
Northam made his original infanticide comments while being interviewed about fellow Virginia Delegate Kathy Tran's proposed abortion bill, which Tran admitted would allow abortions at 40 weeks of pregnancy and even as a mother is going into labor.
Burbidge said in his statement, "This bill rightfully failed — but I am, along with so many people of good will, distraught that this bill was introduced in the first place. It could have paved the way for babies to suffer a violent and gruesome death moments before birth and could have been harmful to women."
"My hope is that this bill failed because the elected officials of the state legislature recognized that it was an evil and impermissible offense to human life and our collective decency. Abortion of a baby in the final stage of pregnancy borders on infanticide. Our governor, however, may be willing to cross that border and go even farther."
President Trump weighed in on the controversy as well. In an interview with The Daily Caller, the president said Tran's defense of her bill was "terrible."
"Do you remember when I said Hillary Clinton was willing to rip the baby out of the womb? That's what it is, that's what they're doing, it's terrible," he said. Speaking about Northam, Trump said "I'm surprised that he did that, I've met him a number of times."
Trump predicted the controversy "is going to lift up the whole pro-life movement like maybe it's never been lifted up before. The pro-life movement is very much a 50-50, it's a very 50-50 issue, actually it's gained a point or two over the years."
Extreme abortion legislation has been taken up by the Democrat Party at an alarming rate in recent weeks. Aside from New York, Virginia, and Vermont, Rhode Island is currently considering a bill that would allow abortion until birth. During her State of the State address, Catholic Rhode Island Governor Gina Raimondo (D)promised she would sign the legislation. Congressional Democrats also took up a billthat would have given $37.5 million to the pro-abortion United Nations Population Fund, a move the Trump administration promptly rejected. President Trump promised pro-lifers at this year's March for Life that he would veto any legislation that comes to his desk that weakens protections for the unborn.
One of the likely reasons Democratic lawmakers are seeking to expand abortion at the state level is because they fear Roe v. Wade will soon be overturned. Such fears are compounded by rumors that Supreme Court Justice Ruth Bader Ginsburg's health is deteriorating and her days as a judge are numbered. Ginsburg, perhaps the court's most liberal member, is a staunch supporter of abortion. Should she resign or die, President Trump would likely nominate a pro-life judge like Amy Coney Barrett. Such a decision could result in the overturning of Roe v. Wade. A pro-life justice would increase the conservative majority of the court from 5-4 to 6-3.