January 30, 2018, Tuesday
"Even the majority can end up with wrong or harmful decisions, especially if the concept of the common good becomes uncertain, because there is no consensus even on the anthropological foundations of law. That is why it is difficult for the State to decide what is good for man." —Cardinal Peter Erdo, Archbishop of Esztergom-Budapest, Hungry, in his magisterial Brampton Lecture last evening, January 29, in the Low Library at Columbia University in New York City. In his talk, attended by about 300 people, Erdo, who holds doctorates in Theology and in Canon Law, explored the question of "Church and Religion in the Secular State." His chief point: that modern secular, "post-Christian" society in the West, and globally, faces a grave and growing crisis of trust in the justice and goodness of its laws, and that this crisis can be faced and overcome only if society returns to the presently discarded wisdom of the great religious traditions of mankind, and to the wisdom of Christianity in particular, to provide a solid and just support for the laws which govern society

"But this did not resolve the problem which arose from the uncertainty of natural morals, and from the doubt of the knowability and contents of morals. Would it be possible to say, that we can legally enforce morals, if we cannot even establish what the content of morals is? In this matter different anthropological views became apparent. The questions became: Who is the human being? What is the good of the human being? Is the existence of the individual human being, as well as society, a part of a great project, or should it be, or indeed can it be, up to the human person himself to determine?" —Cardinal Erdo, in the same talk

"After the epistemological upheavals of the second half of the 20th century, many started to doubt the existence of objective goods and tried to narrow the question down to the problem of desires and interests based on a subjective choice. That is how they reached the more relative and formal concept of justice and its separation from the common good, which they declare was unknowable, or may not exist at all." —Cardinal Erdo, in the same talk

"The Judeo-Christian heritage contains the belief that behind the whole universe there is a personal and benevolent Creator, who revealed himself and wants to communicate with man. And this, beyond giving a basic moral point of view, gives something extra, which is even more important. It generates trust both in the individual and in the community. It generates trust that even though our cognitive abilities cannot keep up with the fullness of reality, we can always somehow reach the necessary knowledge and cognitions. So, the weakness of our recognition is not a reason to give up our pursuit of the truth, and our striving for upright behavior." —Cardinal Erdo, in the same talk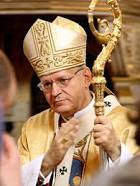 Cardinal Péter Erdő, 65 (photo), of Esztergom-Budapest, Primate of Hungary, yesterday evening delivered, in a magisterial way, the 40th Bampton Lecture in America in the Low Library of Columbia University in New York City before an audience of about 300 people. (The Low Library was built in 1895 by Columbia University President Seth Low as the University's central library. Financed with $1 million of Low's own money, he named it in memory of his father, Abiel Abbot Low.)
Cardinal Erdo's one-hour lecture, titled "The Role of Religion and the Churches in a Secular State," was a wide-ranging treatment of the crisis of trust in the justice and "goodness" of the laws in modern secular societies.
"Church and religion in the secular State seems to be an actual question, because we are facing a profound, grave crisis which may be summed up in the word 'relativism,'" Erdo began, speaking in English. "This means we, as a society, are increasingly unable to say something is 'right' or 'wrong,' 'true' or 'false' (even our news, which is often 'fake news') because, as we say, and generally now believe, it is all 'relative.'"
Erdo asked, in brief: What is the problem with separating Church and religion — and the ideas of ethics and morals which are so central to the Christian religious tradition — from the State?
In essence, he was asking: What is the problem with relativism? What are its consequences?
And he answered, essentially: That the law may become immoral.
That is, he argued, that one can follow the laws of the State, but in doing so, do moral evil.
And this contradiction, he suggested, can create a crisis of trust in the entire legal edifice of a secularized society, leading to a general, chaotic, and often cruel, situation of lawlessness.
"For example," Erdo said, "Gustav Radbruch (photo) [1878-1949, the German legal scholar who served as Minister of Justice of Germany during the early Weimar period and was in retirement during the National Socialist period, regarded as one of the most influential legal philosophers of the 20th century] was a prominent representative of legal relativism and legal positivism. He went beyond the neo-Kantian principle which held that the law depends on moral values. And, since according to him these are not absolute, then law and justice are relative, too."
This had profound consequences.
Erdo continued: "The law, rendered independent from the broader reality of morals, led to horrible abuses in National Socialist Germany. The trials of Nuremberg showed where the separation of law and morals can lead."
By bringing Radbruch into his argument, Erdo was implicity bringing into his discussion also Radbruch's theory, developed at the end of his life — influenced by the experience of National Socialism — that where statutory law is incompatible with the requirements of justice "to an intolerable degree," or where statutory law is obviously designed in a way that deliberately negates "the equality that is the core of all justice," statutory law must be disregarded by a judge in favor of the principle of justice.
Since its first publication in 1946, Radbruch's principle has been accepted by Germany's Federal Constitutional Court in a variety of cases. Many people partially blame the older German legal tradition of legal positivism for the ease with which Hitler obtained power in an outwardly "legal" manner, rather than by means of a coup.
Arguably, Erdo in this part of his talk was suggesting that the return to a concept of natural law ought to act as a safeguard against dictatorship, an untrammeled State power and the abrogation of civil rights.
In the end, Erdo's final proposal seemed a rather modest one: a renewed dialogue between these modern secular States and  the world's great religious traditions, and Christianity in particular, in order to address this dangerous crisis of trust.
"The Judeo-Christian heritage contains the belief that behind the whole universe there is a personal and benevolent Creator, who revealed himself and wants to communicate with man," Erdo concluded. "And this, beyond giving a basic moral point of view, gives something extra, which is even more important. It generates trust both in the individual and in the community."
In other words, by linking human behavior and human life to a reality or principle that is unchanging and transcendent, not able to be voted into law one year and voted out of law the next, and by stipulating that that principle is not only moral, that is, just, but also benevolent, desiring the common good and the good of individuals, human law — even in secular States — can have a much better chance to avoid becoming capricious, cruel, and in this way, this law can generate trust.
Erdo, whose talk included a reflection of the present challenges of "social media" and the development of "artificial intelligence" which represent technological developments which seem to surpass the ability of the human mind to comprehend, summed up: "It (the belief of the Judeo-christian heritage) generates trust that, even though our cognitive abilities cannot keep up with the fullness of reality, we can always somehow reach the necessary knowledge and cognitions. So, the weakness of our recognition is not a reason to give up our pursuit of the truth, and our striving for upright behavior."
Cardinal Erdő was also the guest of Columbia University Chaplain Father Dan O'Reilly at Mass on Sunday, January 28, at St. Paul's Chapel on Columbia University's central campus at 5 pm.
Columbia Prof. Robert Somerville (photo) invited Erdo to give the lecture, and introduced the cardinal. Somerville received his Ph.D at Yale University, and teaches pre-modern Western Christianity at Columbia. His research deals primarily with the Medieval Latin Church, the papacy and its documents and institutions, canon law, and medieval Latin manuscripts. He is presently completing a second edition (with Bruce C. Brasington), of "Prefaces to Canon Law Books in Latin Christianity."
Founded in 1948 through a bequest from Ada Byron Bampton Tremaine, the Bampton Lectures in America are a series of lectures given by prominent scholars in the fields of theology, science, art, and medicine. In accordance with the wishes of Ms. Tremaine, the lectures are delivered to a general audience and subsequently published. Included among those who have delivered the Bampton Lectures are: Arnold Toynbee, Paul Tillich, Fred Hoyle, Alasdair C. MacIntyre, Jonathan Riley-Smith, and Irving Weissman.
Normally, the Bampton Lectures are given as a series of lectures, but Prof. Somerville told me that Cardinal Erdo could not be in New York more than once this year so it was decided that this lecture of Erdo would be the sole Bampton Lecture Erdo he delivers.
Cardinal Péter Erdő, Archbishop of Esztergom-Budapest, Primate of Hungary, was ordained priest on June 18, 1975 in Budapest. Between 1975-1977 he served in a parish in the city of Dorog, Hungary. He obtained a Doctorate in Theology in 1976, then between 1977-1980 he studied at the Pontifical Lateran University's Institutum Utriusque Iurisin Rome, at the end of which he obtained a Doctorate in Canon Law (1980). Over the next 20 years he served in higher education in Esztergom, at the Pontifical Gregorian University in Rome, at the Péter Pázmány Catholic University, and at the post-graduate Canon Law Institute.
On November 5, 1999, Pope St. John Paul II appointed him Auxiliary Bishop of the Diocese of Székesfehérvár.
On December 7, 2012, John Paul II transferred him to the Metropolitan See of Esztergom-Budapest, appointing him Archbishop of Esztergom-Budapest and Primate of Hungary. He was created Cardinal on October 21, 2003, becoming the youngest cardinal in the Church at that time.
His prodigious systematic reading has led to the publication of more than 250 articles and 25 books in the fields of Canon Law and the medieval history of Canon Law. Since 2013 he has been an ordinary member of the Hungarian Academy of Sciences.
This event was organized by the Institute for Religion, Culture and Public Life, with co-sponsorships from the World Leaders Forum and the Columbia Department of Religion.
Due to security protocols, the event was open to members of the Columbia community by pre-registration.
=============================