WATCH: Sen. Ted Cruz Obliterates Dems' 'Exceptionally Weak Arguments' About AG Barr
Beth Baumann| @eb454|Posted: May 01, 2019 5:10 PM Share Tweet
Source: Jacob Ford/Odessa American via AP, File
Most of Attorney General William Barr's testimony in front of the Senate Judiciary Committee on Wednesday focused on a letter Special Counsel Robert Mueller sent Barr the day after Barr released his four-page summary of Muller's "key findings" during the Russia probe. Mueller asked for his 19-page introduction and summary that he had drafted to be released ahead of the report because he wanted to clear up media reports that mischaracterized the investigation's findings.
Instead of releasing a trickle of information to the public, Barr decided to hold off, redact the information that was sensitive to national security and then release the full report. He repeatedly said that he made that
"The principal attack that the Democratic senators have marshaled upon you concerns this March 27th letter from Robert Mueller and it's an attack I want people to understand and just how revealing it is. This is their whole argument. They ain't got nothing," Cruz explained.
"So their argument is as follows, and let me see if I understand it correctly. You initially, when you received the Mueller report, released to Congress and the public a four-page summary of the conclusions. Then, on March 27th, Mr. Mueller asked you to release an additional 19-pages, an introduction and summary that he had drafted. And, indeed, in the letter, what he says is 'I am requesting that you provide these materials to Congress and authorize their public release at this time.' And the reason he says it is to fully capture the context, nature and substance of the office's working conclusion," Cruz recounted.
Instead of releasing the 19 pages at the time Mueller requested it, Barr waited two weeks and included it with the report's full release.
"Two weeks later, you release 448 pages, the entire report, which includes those 19 pages. Do I have that timeline correct?" Cruz asked.
"That's correct," Barr replied.
"Their entire argument is 'General Barr, you suppressed the 19 pages that are entirely public, that we have, that we can read, that they know every word of it.' And their complaint is that it was delayed a few weeks," Cruz said.
Cruz reiterated that Barr wanted to release everything at once instead of piece-by-piece.
"If that is their argument, I have to say, that is an exceptionally weak argument," Cruz said, as Barr laughed.
"Because, if you're hiding something, I'll tell you right now, General Barr, you're doing a very lousy job of hiding it. 'cause the thing they're suggesting you hid you released, you released to Congress and the American people," Cruz explained, holding up the full Mueller report.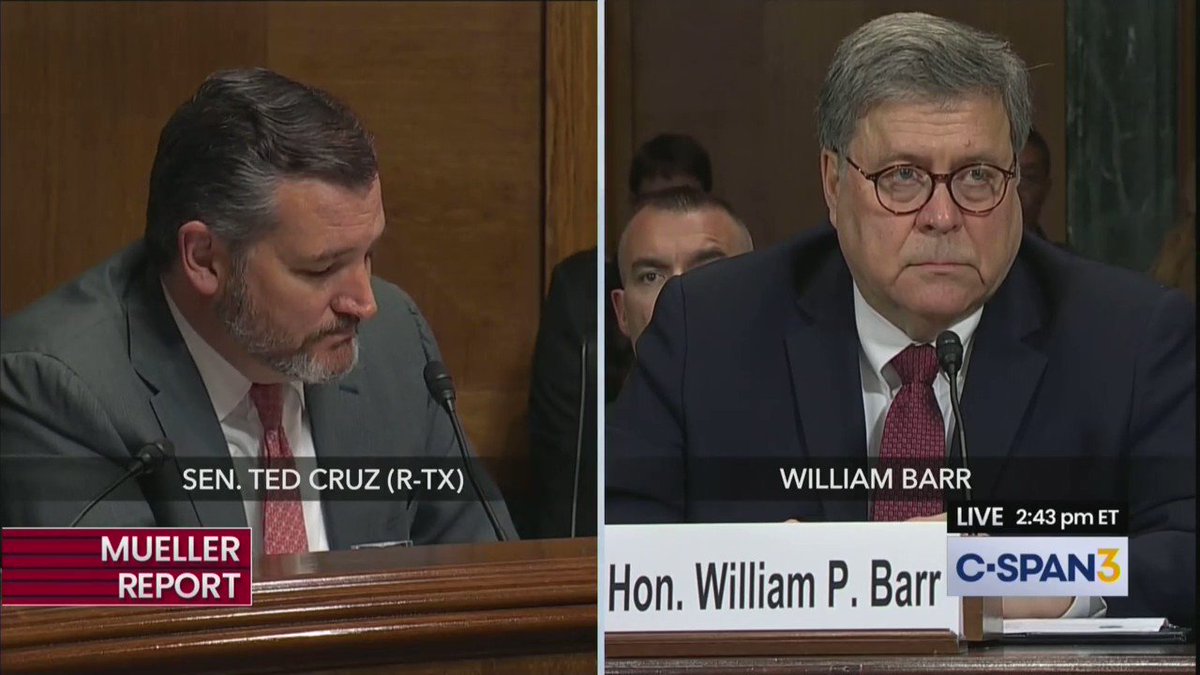 Attorney General Bill Barr flashes a smile and even a chuckle as Sen. Ted Cruz (R-TX) absolutely destroys Democrats on the Senate Judiciary Committee for their "exceptionally weak arguments"32.3K2:01 PM – May 1, 201915K people are talking about thisTwitter Ads info and privacy
Sen. Cruz said exactly what the rest of us were thinking: why are the Democrats focusing so heavily on this letter? The point is moot. The full report has been released. People can read the report for themselves and determine how they feel about what did or did not take place.
RecommendedMadness: Nadler Gavels in Hearing Without Barr, Cuts Off a Republican's MicCortney O'Brien
Democrats, especially those who are running for president next year, are focusing on this letter because they're now pushing the notion that Barr is unfit to serve as Attorney General. Special Counsel Robert Mueller didn't find collusion, which kills the Democrats' narrative that President Trump should be ousted from the White House. They're having to change their narrative so Americans are angry and upset. Trump didn't collude with Russia so now they have to run with the idea that Barr is somehow corrupt and is nothing but a shill for Trump.
And you know what the worst part is? This is far from over. We're bound to hear about this for another 18 months, if not longer. This will be one of the central themes the 2020 Dems run with.
Brutal: WSJ, National Review Editorials Slam Democrats' Phony Fuming at Attorney General Barr
Guy Benson| @guypbenson|Posted: May 02, 2019 1:55 PM Share Tweet
In a pair of house editorials that echoed a number of my central themes and points from yesterday, the right-leaning editors of the Wall Street Journal and National Review defended Attorney General William Barr from the Left's scurrilous and desperate attacks against him, lambasting Democrats for their hysterical overreach. And with the liberal publications like the Washington Post and the New York Times predictably amplifying the Democratic line today, it's officially confirmed that yesterday's hearings provided no game-changers. Let's start with the Journal:
WSJ Editorial Page✔@WSJopinion
The Editorial Board: Democrats and the media are turning Attorney General William Barr into a villain for doing his duty and making the hard decisions that special counsel Robert Mueller abdicated. https://on.wsj.com/2GQ6jBR 1,4739:00 AM – May 2, 2019Twitter Ads info and privacyOpinion | A Real Attorney GeneralBill Barr gets smeared for refusing to duck and cover like Loretta Lynch.wsj.com630 people are talking about this
Washington pile-ons are never pretty, but this week's political setup of Attorney General William Barr is disreputable even by Beltway standards. Democrats and the media are turning the AG into a villain for doing his duty and making the hard decisions that special counsel Robert Mueller abdicated…Mr. Barr told the Senate Wednesday that he offered Mr. Mueller the chance to review his four-page letter before sending it to Congress, but the special counsel declined. Mr. Mueller worked for Mr. Barr, and that was the proper time to offer suggestions or disagree. Instead, Mr. Mueller ducked that responsibility and then griped in an ex-post-facto letter that was conveniently leaked on the eve of Mr. Barr's testimony. Quite the stand-up guy. Mr. Barr has since released the full Mueller report with minor redactions, as he promised, and with the "context" intact…This trashing of Bill Barr shows how frustrated and angry Democrats continue to be that the special counsel came up empty in his Russia collusion probe. He was supposed to be their fast-track to impeachment. Now they're left trying to gin up an obstruction tale, but the probe wasn't obstructed and there was no underlying crime. So they're shouting and pounding the table against Bill Barr for acting like a real Attorney General.
Spot on. Read the whole thing. At National Review, the team skewers Democrats'desperate "obsession" and "conspiracy theories" about the timeline of Barr…doing exactly what he said he'd do in releasing the Mueller report:
As everyone knows, Bill Barr released a brief letter summarizing the top-line conclusions of the Mueller report shortly after he received it. Justice Department lawyers then worked with Mueller staff to make the appropriate redactions, after which the entire 400-page report was publicly released. Strangely enough, this process has become an obsession for Democrats and the press and the focus of endless conspiracy theories…Barr's position was eminently reasonable. He wanted to get the basic verdict of the Mueller report out as quickly as possible, given the inherent interest in the question of whether the president of the United States had conspired with the Russians. He opposed the subsequent release of the summaries of the report, as suggested in Mueller's letter, because he thought it better that the public get the entire report at once. Which it did. Democrats and the media are acting as if Barr engaged in some sort of cover-up, when he went further than required under the regulations to release all of the report with minimal redactions. Even Mueller in a phone conversation with Barr didn't complain that his summary of findings was inaccurate — Barr was careful to note that Mueller didn't "exonerate" Trump on obstruction.
The piece also dismantles a "perjury" allegation against Barr, and scolds Mueller's team over their pointless letter complaining about the atmospherics surrounding Barr's entirely accurate four-page memo: "Particularly troubling [to them] was that it wasn't damning enough of the president. This is not a prosecutorial concern, but a political one unworthy of people who were invested with incredible investigative power in the name of objectivity." The editorial concludes, "Barr's critics are demonstrating their lack of judgment and seriousness, not his." Also worthwhile is David French's analysis, considering the harsh opprobrium he heaped upon President Trump following the release of Mueller's work (my take was here). French rightly backs Barr's actions and upbraids his unhinged critics, noting that any frustrations about the Barr summary (the approach to which French calls "entirely fair") were rendered moot as soon as the largely-unredacted, context-rich underlying document was made public. In case you missed it yesterday, Sen. Ted Cruz highlighted this overwhelmingly important point during Wednesday's hearing, ridiculing his Democratic colleagues' "exceptionally weak argument," drawing a chuckle from Barr (scroll ahead to the two-minute mark):
RecommendedMadness: Nadler Gavels in Hearing Without Barr, Cuts Off a Republican's MicCortney O'Brien
As you've no doubt seen by now, the Attorney General declined to show up for a scheduled House hearing today, as a dispute over who would be allowed to conduct the questioning derailed the process. Democrats wanted hand-picked staff members to be designated to ask the questions, while Republicans countered that lawmakers have never ceded such a role to subordinates in the entire history of the committee. This is quite a stemwinder from the ranking member, and it doesn't make Chairman Jerry Nadler look good: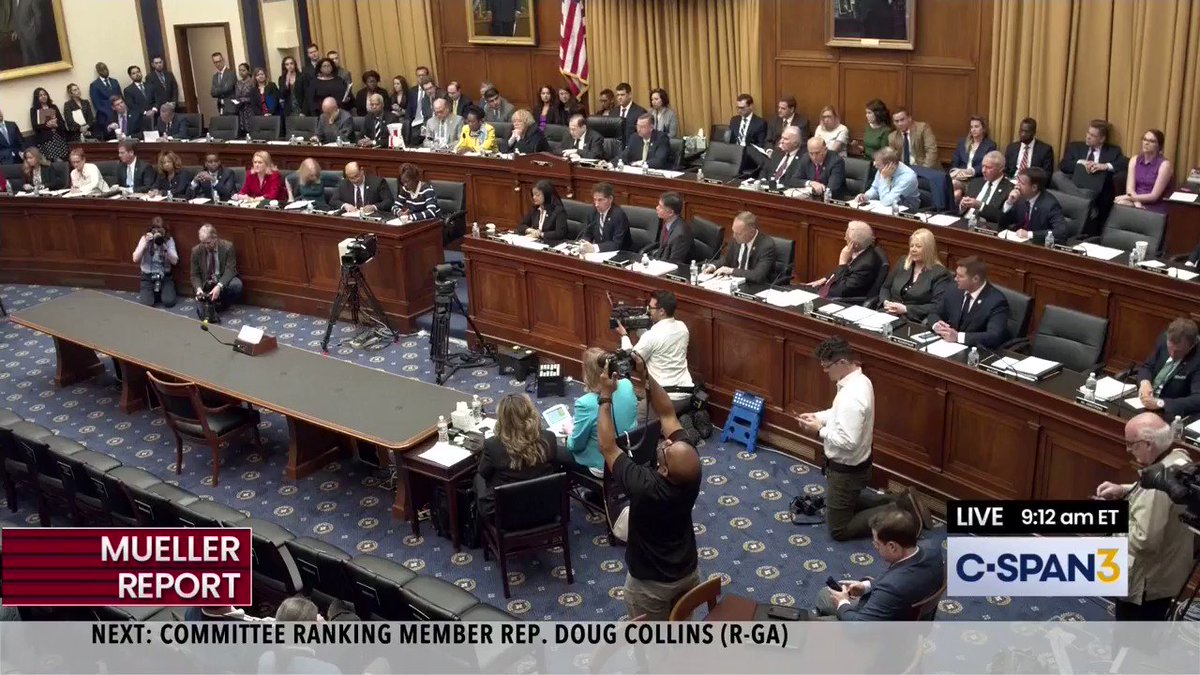 Rep. Doug Collins✔@RepDougCollins
Over the 206-year history of this committee, staff have never questioned witnesses in an oversight hearing. Never. Not once. So, to say Chairman Nadler's demands are unprecedented would be an understatement.8,9498:58 AM – May 2, 20196,110 people are talking about thisTwitter Ads info and privacy

On one hand, I tend to think Barr should've just bit the bullet and showed up, despite the ridiculous game-playing and theatrical demands from Democrats. It's not like the staffers, even if they're sharp attorneys, would be more equipped than hostile Senators to trip him up. On the other hand, perhaps Barr was wise to sidestep this farce until the children are forced to behave themselves: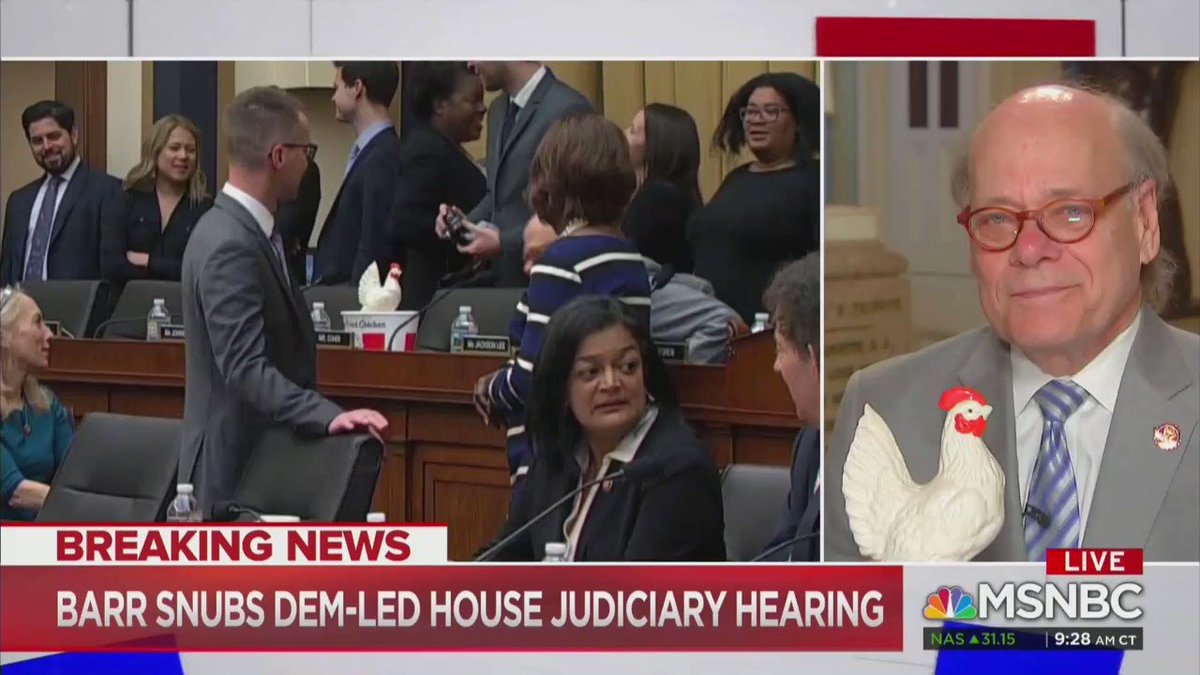 Rep. Steve Cohen is now talking about his chicken prop on MSNBC: "The message is that Bill Barr is a chicken" and the "attorney general deserves no respect."1039:33 AM – May 2, 2019402 people are talking about thisTwitter Ads info and privacy

Such serious people.
A Time for Truth: Reigniting the…By Ted Cruz (Hardcover -…$11.38$27.99
A Time for Truth: Reigniting the…By Ted Cruz$5.49
High Country (Anna Pigeon Mysteries Book 12)By Nevada Barr$7.99Ads by Amazon Share this on Facebook Tweet