SEARCH
Francis Effect: "This [Francis/Pelosi] Picture is exactly why I'm no longer a Catholic"
This picture is exactly why I'm no longer a Catholic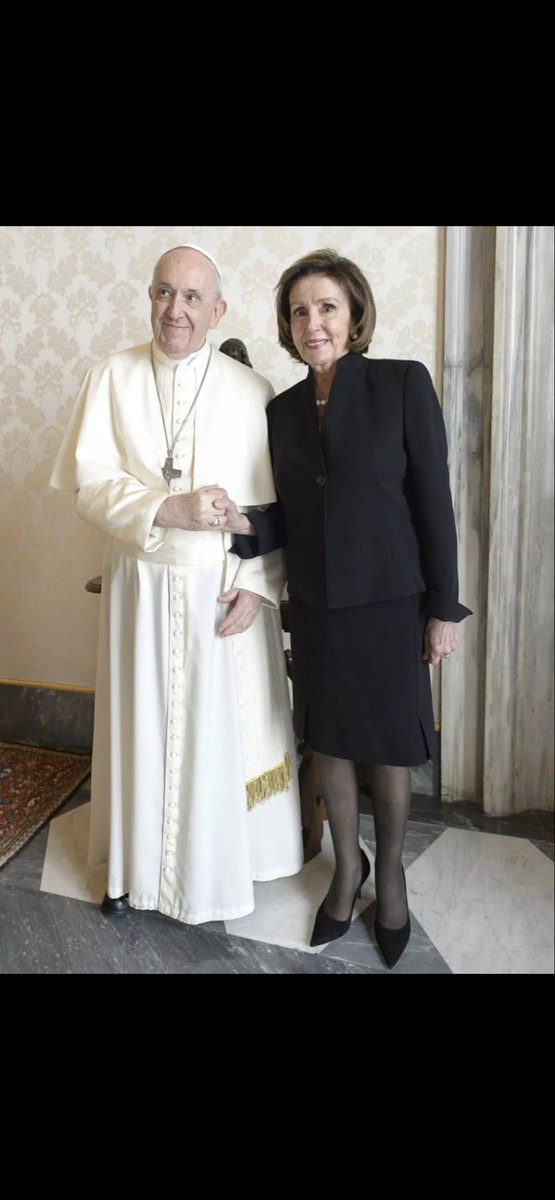 12:50 PM · Jun 30, 2022·Twitter for Android
[https://twitter.com/LangmanVince/status/1542596474185334788]
Pray an Our Father now for reparation for the sins committed because of Francis's Amoris Laetitia.
Pray an Our Father now for the restoration of the Church as well as the Triumph of the Kingdom of the Sacred Heart and the Immaculate Heart of Mary.
Stop for a moment of silence, ask Jesus Christ what He wants you to do now and next. In this silence remember God, Father, Son and Holy Ghost – Three Divine Persons yet One God, has an ordered universe where you can know truth and falsehood as well as never forget that He wants you to have eternal happiness with Him as his son or daughter by grace. Make this a practice. By doing this you are doing more good than reading anything here or anywhere else on the Internet.
Francis Notes:
– Doctor of the Church St. Francis de Sales totally confirmed beyond any doubt the possibility of a heretical pope and what must be done by the Church in such a situation:

"[T]he Pope… WHEN he is EXPLICITLY a heretic, he falls ipso facto from his dignity and out of the Church, and the Church MUST either deprive him, or, as some say, declare him deprived, of his Apostolic See."
(The Catholic Controversy, by St. Francis de Sales, Pages 305-306)

Saint Robert Bellarmine, also, said "the Pope heretic is not deposed ipso facto, but must be declared deposed by the Church."
[https://archive.org/stream/SilveiraImplicationsOfNewMissaeAndHereticPopes/Silveira%20Implications%20of%20New%20Missae%20and%20Heretic%20Popes_djvu.txt]
– "If Francis is a Heretic, What should Canonically happen to him?": http://www.thecatholicmonitor.com/2020/12/if-francis-is-heretic-what-should.html
– "Could Francis be a Antipope even though the Majority of Cardinals claim he is Pope?": http://www.thecatholicmonitor.com/2019/03/could-francis-be-antipope-even-though.html
– If Francis betrays Benedict XVI & the"Roman Rite Communities" like he betrayed the Chinese Catholics we must respond like St. Athanasius, the Saintly English Bishop Robert Grosseteste & "Eminent Canonists and Theologians" by "Resist[ing]" him: https://www.thecatholicmonitor.com/2021/12/if-francis-betrays-benedict-xvi.html
– LifeSiteNews, "Confusion explodes as Pope Francis throws magisterial weight behind communion for adulterers," December 4, 2017:

The AAS guidelines explicitly allows "sexually active adulterous couples facing 'complex circumstances' to 'access the sacraments of Reconciliation and the Eucharist.'"

– On February 2018, in Rorate Caeli, Catholic theologian Dr. John Lamont: