Published January 13, 2023 10:30am EST
Idaho school board shuts down parents, state senator objecting to transgender locker rooms
Caldwell School District abruptly ends board meeting after parents challenge the gender bathroom and locker room proposal
By Elizabeth Heckman | Fox News
Caldwell School District mom Brittany Gish, her daughter Gianna and Idaho State GOP Sen. Chris Trakel express outrage over a proposed policy that allows biological boys in girls' locker rooms.
Idaho parents expressed outrage after their concerns over a proposed school policy that would allow biological boys to use girls' restrooms and locker rooms were shut down by the local school board.
Brittany Gish, her daughter Gianna and Idaho State GOP Sen. Chris Trakel joined "Fox & Friends First" on Friday to discuss their fight against the proposed policy in the Caldwell School District.
"They have no interest in hearing how the parents feel," Brittany said. "They have no interest in including us in their decisions. They are just tyrants, and they just want to push their agenda and do their own thing. They've proven that time and time again."
SEVEN BOOKS THAT SHOW NYC IS PUSHING TRANSGENDERISM, LGBTQ+ CURRICULUM TO KIDS AS YOUNG AS KINDERGARTEN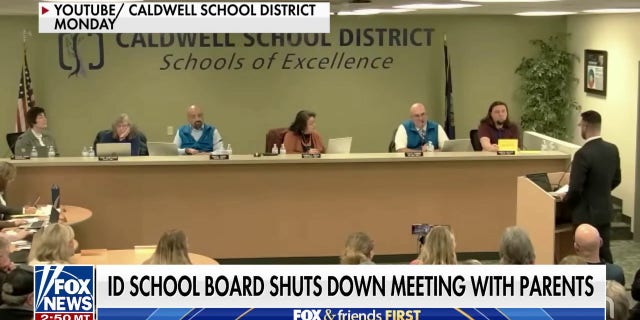 A school board meeting in Caldwell, Idaho, reportedly ended abruptly and in chaos after parents and students challenged a proposal that would allow students to use the restrooms and locker rooms according to their gender identity.
Monday night's Caldwell board meeting ended abruptly and in chaos after Trakel took the podium to protest the policy that would allow students to use facilities that correspond with their gender identity. Trakel's microphone was shut off and the meeting was adjourned as parents shouted at board members.
Brittany argued her disagreement should not be viewed as hate as she just wants her daughter to feel comfortable at school.
"We want rights for everybody, but what I don't want is someone else's rights to infringe on my child's rights. She has her right to her privacy and all the other children should as well," she said.
Trakel condemned the school district for "attempting to force a policy" on families that puts students in "harm's way" by removing their privacy.
"And all the while, at the same time, they're supposed to lie about this to the parents as well," he said.
Brittany said that if the new gender policy goes through, she will take her girls out of school.
"I'm not going to subject them to having to feel uncomfortable and having their privacy taken away from them. I'll figure out how to homeschool them if I have to," she said.
Gianna said she and her friends do not want this policy at their school.
"I am very worried… it would be very awkward for everyone," she said.
CLICK HERE TO GET THE FOX NEWS APP
The school district released the following statement after the meeting: "It was disappointing that some attending refused to follow the rules, which prevented others from sharing their thoughts with the Board."
"Caldwell School District welcomes and encourages feedback on its work," it continued. "What we do not welcome are those who refuse to follow the steps necessary for a civil, courteous and respectful environment for that feedback to occur."
Elizabeth Heckman is a digital production assistant with Fox News.