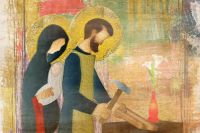 We are enormously grateful for the support of our clergy; especially three pastors: Father Brian Eilers in Bryan/College Station, Father Greg Labus in Edinburg, and Father Chris Downey in Austin. Over the last six months, each of them organized events for Catholic parents to get involved in this effort. All three of their parishes are named for St. Joseph, and the feast of St. Joseph is today! So, we are dedicating our parental choice efforts to the foster father of Jesus and spouse of the Blessed Virgin Mary, and we ask that you pray for his intercession in passing this legislation.
On Thursday, we testified in support of Toni Rose's HB 12 which extends coverage for postpartum women receiving Medicaid to 12 months. Last December the Maternal Mortality and Morbidity Review Committee reported 118 women died from causes related to pregnancy and childbirth in 2019, and that 90% of those deaths were preventable. This data is alarming and tragic and demonstrates how vulnerable pregnant women are, especially those who lack comprehensive healthcare. The bishops support HB 12 because it will save lives and help create healthy families.
After this week's hearing on HB 2127, we are pleased to report promising conversations with the author and other legislators. We believe improvements are being made to the bill. When a bill is formally changed such that our position changes, we announce it in an action alert and on our social media channels after we verify the new bill text in a committee sub or accepted amendment.