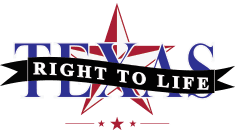 Builders of a Pro-Life Texas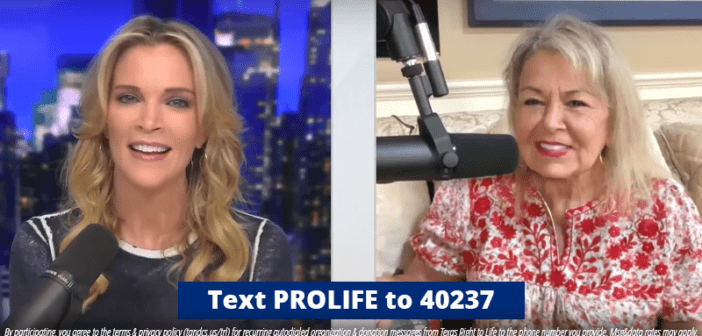 Roseanne Barr Reveals Heartfelt Adoption Story, Calls Abortion 'Barbaric' in Candid Interview with Megyn Kelly
In a recent interview with Megyn Kelly, comedian Roseanne Barr delivered a powerful Pro-Life message, shedding light on her personal experience of placing a child for adoption and condemning the practice of abortion as "barbaric."
During the episode of "The Megyn Kelly Show" on SiriusXM, Kelly delved into Barr's extraordinary upbringing. Growing up in the 1960s as one of the few Jewish families in Salt Lake City, Utah, Barr dreamed of becoming a successful stand-up comedian.
At the age of 18, Barr became pregnant. Determined to provide the best life for her child, she made the difficult decision to place her baby girl for adoption through a Jewish social services organization in Denver, holding onto the hope of reuniting with her daughter someday.
Barr recounted to Kelly that her daughter had a distinctive ear shape from birth, "God made her ear like that so I'll be able to find her."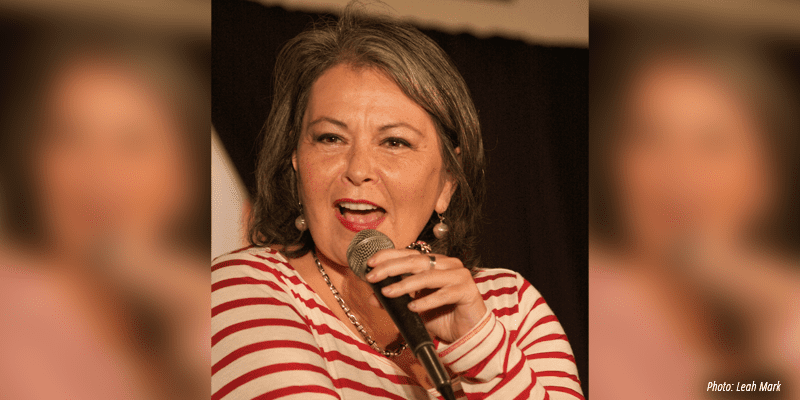 Although the unique ear was not what eventually brought them together, the mother and daughter, Brandi Ann Brown, reunited through the National Inquirer on Brandi Ann's 18th birthday.
Barr spoke affectionately about her daughter, emphasizing the strong bond they share. She rejected the labels of "biological" and "adoptive" mother, emphasizing "She has two moms who love her."
As the conversation progressed, Kelly asked Barr how she felt when she found herself pregnant as a teenager without a husband and whether she ever considered abortion. Barr profoundly rejected the idea, declaring, "That's not for me. I have five kids, and I'm grateful I had them all."
She slammed the idea of abortion as "the right to choose" because "the choice they're talking about is that — something so barbaric. They choose this barbarity. There's a lot of reasons why, and they're all horrible."
Barr's reflected how God has a plan for our lives, even in the face of unexpected pregnancies. "Throughout my life, I have always placed my trust in God," she remarked.
The entire interview can be viewed below, with the discussion about Barr's background, her decision to place her daughter for adoption, and her Pro-Life stance on abortion beginning at 24:50 and continuing until approximately the 35:00 mark.
data:image/gif;base64,R0lGODlhAQABAAAAACH5BAEKAAEALAAAAAABAAEAAAICTAEAOw==
Thank you for reading this story! If you support our mission, give a life-saving donation today!
Amount
$1000 $500 $100 $50 $25
$
Please use my gift to support programs such as:

Educate and train Pro-Life advocates (Tax-deductible)501(c)(3)
*More about this option
Protect Pro-Life laws and pregnancy centers (Biggest Impact)501(c)(4)
*More about this option
Your Contact Information

, Alabama Alaska Arizona Arkansas Armed Forces Americas Armed Forces Africa Armed Forces Canada Armed Forces Europe Armed Forces Middle East Armed Forces Pacific California Colorado Connecticut Delaware District Of Columbia Florida Georgia Hawaii Idaho Illinois Indiana Iowa Kansas Kentucky Louisiana Maine Maryland Massachusetts Michigan Minnesota Mississippi Missouri Montana Nebraska Nevada New Hampshire New Jersey New Mexico New York North Carolina North Dakota Ohio Oklahoma Oregon Pennsylvania Rhode Island South Carolina South Dakota Tennessee Texas Utah Vermont Virginia Washington West Virginia Wisconsin Wyoming
**The receipt for your donation will be sent to this email address.**
HomeMobileWorkOther
Donation Frequency:


One-Time Gift


Monthly Gift
I'm interested in including Texas Right to Life in my will.
Payment Information
Name On Card:

01 02 03 04 05 06 07 08 09 10 11 12 / 2324252627282930313233